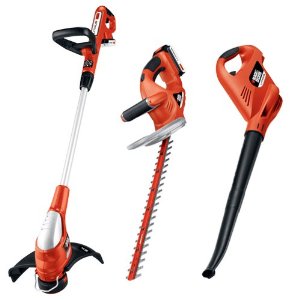 The Black & Decker LC3K220 20-Volt Lithium Ion Cordless Electric Lawncare Center is one of the most unique PowerDrive Transmission. The 12-inch trimmer and edger generates more than enough power fro its motor for the cutting string in order to help you get your work done in a fly. There are many areas in your lawn where your mower cannot reach. However, the LC3K220 can even trim the grass in the tighter areas and still maintain the neat edge with harder surfaces.
---
The Black & Decker LC3K220 has a specially built Groom 'N' Edge head that rotates 180 degrees so as to switch instantly between jobs involving cutting or edging. Whereas the proprietary Automatic Feed Spool system makes use of the centrifugal force for dispensing additional line when you need more accuracy and reliability. You really don't want any bumping when performing your job. In addition, there are several other features like the telescopic pole for adjustment to desired height, a motor that can perform at 7,500 rpm, a line with 0.065 diameter and a flip-down edging guide.
The LC3K220 is the ideal machine for sculpting those perfect hedges or shrubs. The LHT120B hedge trimmer is the perfect tool for trimming the hedges, small bushes and shrubs with utmost perfection. The special double-action blade is made from pre-hardened and machined-steel that delivers 2,400 strokes in a minute and can cut down branches having a diameter of maximum 3/4 inches and branches in an instant by reducing the vibrations by as much as 40%. The lock-off switch is there to prevent any accidental start-up while the sturdy plastic body protects from wear and tear.
The Black & Decker LC3K220 comes with the cordless sweeper, LSW120B that is designed to clear debris from a wide range of hard surfaces. The sweeper can blow away cut grass, leaves and any other debris. It generates blowing air at a maximum speed of 120 mph and doesn't generate more than 66dBA of noise, which is relatively much lower. The lawncare center is powered by Energy Star rated Smart Charger fitted with a pair of 20-volt lithium-ion batteries. It comes with a warranty of 2 years for any defect in workmanship or material.
The entire Black & Decker LC3K220 20-Volt Lithium Ion Cordless Electric Lawncare Center kit consists of LST220 trimmer and edger, LSW120B sweeper for hard surfaces, LHT120B hedge trimmer, a couple of 20-volt MAX lithium-ion batteries, a smart charger and operating manuals.
See more reviews and buy Black & Decker LC3K220 20-Volt Lithium Ion Cordless Electric Lawncare Center