Toro is one the top manufacturer of outdoor equipment and one of their most popular brands are the string trimmers. They produce various brands of trimmers from the moderate battery Toro 51487 24V Lithium-Ion Cordless String Trimmer to the elegantly designed electric Toro 51467 Cordless 8-Inch 12V Electric Trimmer, and the gas-powered Toro 2-cycle 25.4 Cc Power Head 51944. There is no doubt that Toro has produced impressive string trimmers, and no matter your preference, they got you covered.
Toro has string trimmers for both the professional landscaper and the homeowners; they offer a broad range of strings trimmers that can work on any landscape. Toro string trimmers are recommended for you if you are looking for powerful and reliable tools that can tackle touch bushes, handle grass, stalk shrubs, and clear stubborn weeds all day long. Toro also has other brands of outdoor equipment like the lawn edgers, brush cutters, and hedge trimmers;
Features of Toro String Trimmers
Toro string trimmers have many useful features; there are general features for all the brands, and specific functions depending on the type of brand. The general features include adjustable handles that can be used for optimal balance and create the cushioned support for maximum comfort, cast aluminum head protect the trimmer, and makes it durable, providing the long-lasting effect. Variable Speed Control provides the operator with run time and balance performance.
Another important feature that comes with some of the trimmers is Edge in Seconds. With the press of the button, the trimmer within seconds converts to an edger and can switch back with the press of the same button. The guide's wheels are used to prevent and roll along smoothly. It also has Dual Auto-Feed Trim Line features that adjust the line automatically to perfect cutting length.
The features common to the battery-powered string trimmers are the lithium-ion battery; these provide about twice the power of traditional nickel-cadmium batteries. They provide longer run time, low self-discharge, and battery charge having storage mode. Another feature common to some of the cordless string trimmers is the 48V Max that comes with the Toro 51488 48V Max Cordless Dual Line Trimmer.
The gas-powered string trimmers Full Crank Engine forged with steel crankshaft, this provides longer engine life and balanced movement with less vibration. They also have a Powerful 5 amp motor that easily cuts through thick weeds and grass.
Best Toro String Trimmers
You love to take care of your lawn and are searching for the best string trimmer on the market, and you probably know that the choice is not simple. Toro is one of the leading manufacturers of string trimmers, and these are the Toro string trimmers' reviews, which should help you make your decision. You have to choose based on your type of lawn; you will also have to decide if you should buy a gas-powered or a more powerful tool Toro string trimmer, with a curved or with a straight shaft. There are so many other factors that you have to consider. The guide and list of the best Toro string trimmer reviews should help you make a decision.
You can check the top three Toro String Trimmer sold on Amazon:
Sale
Bestseller No. 1
Worx String Trimmer Cordless GT3.0 20V PowerShare 12" Edger & Weed Trimmer (2 Batteries & Charger Included) WG163
[TRIMMER & EDGER 2-in-1] Easily converts from a string trimmer to an edger lawn tool in just seconds
[INSTANT LINE FEED] This grass trimmer has innovative push button Command Feed spool system for instant line feeding. Plus, Free Spools for Life
[HEAD TILTS 90°] So you can use string trimmer and edger on sloped terrain, and get to tough-to-reach places
[RUBBERIZED WHEELS] Support and guide the edger, giving you straighter lines and cleaner cuts
[SPACER GUARD] Adjustable, so you don't damage plants, landscape features, and lawn ornaments while you're using the lawn trimmer
Sale
Bestseller No. 2
Oregon 21-380 Gatorline 1-Pound Round String Trimmer Line, .080-inches x 413-feet – Fits Most Weed Whacker Types
Long-lasting, high-quality, and breakage-resistant trimmer line for homeowners and DIYers
Fits most standard trimmer heads - including fixed-line, semi, and automatic bump-feed heads. Fits most gas, electric, and battery-powered curved and straight shaft trimmers.
Fits many popular string trimmer models including (but not limited to): Stihl FS 45 and FS 40 C; DeWalt DCST920P1 and DCST970X1; Ryobi RY40220; Greenworks 21362
Impact resistant for stronger performance – Gatorline is made from a fortified Nylon co-polymer that is more durable than standard trimmer line
.080-inch diameter trimmer line is the perfect size for smaller jobs like trimming grass and removing seasonal weeds
Sale
Bestseller No. 3
Husqvarna 952711953 128LD Gas String Trimmer, 28-cc 2-Cycle, 17-inch Straight Shaft Gas String Trimmer with Tap 'n Go trimmer head
Husqvarna 128LD Straight Shaft Gas String Trimmer is a great multipurpose weed wacker with a 17-inch cutting width and a powerful 28-cc engine to let you power through yard work.Maximum power speed : 8000 rpm
T25 Trimmer Head: Gas powered weed wacker is equipped with strong, braided trimmer line and a T25 semi-automatic weed trimmer head that's designed for simple and easy line reloading
Smart Start and Air Purge: Smart Start technology reduces starter cord resistance by 40% to allow for easy engine starts, while Air Purge removes air from the carburetor and fuel system for additional easy starting
Effortless Start-Up: Automatic stop switch automatically resets these string trimmers to the "on" position to streamline the start-up process
Versatile and Easy to Store: This grass trimmer is compatible with select click-on attachments to cover the job of a variety of lawn care equipment, plus it features a detachable shaft for easy transport and storage
1. Toro PowerPlex 51482T Brushless 40V MAX Lithium Ion 14″ Cordless String Trimmer

This cordless string trimmer is a long-lasting and powerful tool. It has a T90 battery that charges for about 1 hour and runs for up to 40 minutes. Its unique brushless motor has a more excellent power supply and better run time compared to a brushed motor. The aluminum head and a steel shaft make it more durable.
Another great feature is the foldable ability that makes it convenient for storage and transport.
Pros
The line feeds smoothly;
Easy to maneuver around with it;
Adjustable handle;
Lightweight;
Easy to assemble and use;
The battery charges fast and lasts long.
Cons
The battery needs replacement at least ones a year.
User view
If you need an easy to use a cordless string trimmer, then this is the right one for you. It is durable, works on an acre of land within a few minutes, well balanced, and with multiple attachments. Take charge with this tool.
2. Toro 51480 Corded 14 Inch Electric Trimmer/Edger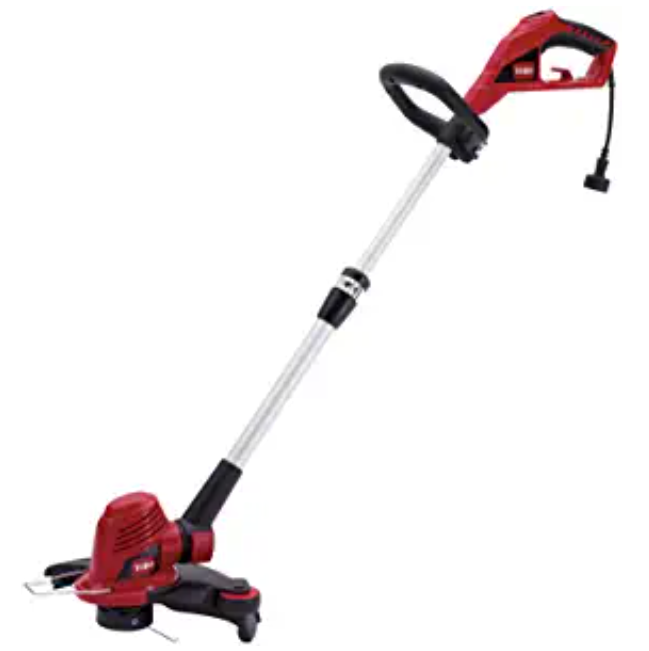 Toro's 51480 corded trimmer/edger is sturdy and durable. Packed with its high-performing features, power, and versatility, it is a reliable yard tool. This makes yard care seem effortless.
With a powerful 5Amp motor, it cuts through thick grass and weed. You can also easily adjust from a trimmer to an edger.
Pros
Powerful 5 amp motor.
Extra-wide 14-inch (35.6 cm) dual-line cutting head.
One-step-easy switch from a trimmer to an edger in seconds.
Telescoping shaft and adjustable handle.
Cons
It is electric, and thus you will have to stay plugged in always.
User view
With this trimmer/edger, you will have a two in one tool which helps you work with comfort and without resistance.
up here
3. Toro 51487 24V Lithium-Ion Cordless String Trimmer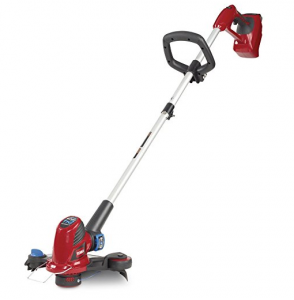 It is a moderate cordless string trimmer from Toro; it runs on the existing 24 Volt Lithium-Ion, which gives you an excellent performance. You also don't need to worry about the battery because it has a power saver that extends the time of the run. The auto-feed trim system keeps the trimmer at the proper length and also extends the width of the shaft to maximize efficiency.
Toro 51487 24V Lithium-Ion Cordless String Trimmer gets the job done with its Single line cutting head. It has a handle that helps to balance the trimmer, which reduces fatigue. At 8 pounds, it is light in weight than most trimmers, and it is easy to maneuver next to the fence line, down the driveway, at the front walk, and any other place that needs trimming.
You also don't need to guess the battery level of the trimmer because it comes with an LED charge meter, and it is affordable. It comes with a few downsides though, the battery doesn't go with it, and it's also without anti-vibration technology
Pros
Lightweight
Easy to use
Quite
Comfortable
Assist handle
Cons
No charger
No battery
No anti-vibration
4. Toro 2-cycle 25.4 Cc Power Head 51944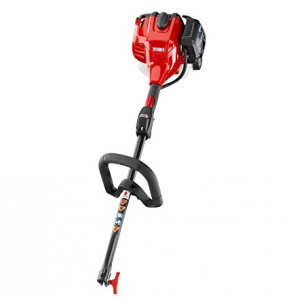 The trimmer is one of the most potent Toro products, despite its power, it is easy to use. It also has a commercial-grade engine that makes it durable, and also gives it optimal performance. It requires little to no assembly because the only thing for you to do is to fix the handle to the string trimmer, and you are all set to start using it.
If you have an attachment from another brand at home, you don't need to buy another Toro attachment when getting the trimmer because it can use any Universal's trimmer fit attachments, and it also works with all RYOBI attachment from the Expand-It brand. It is easy to handle and starts and light-weighted due to the absence of valves.
Toro 2-cycle 25.4 Cc Power Head is quieter than most gas-powered trimmers in its category, and you can also be assured about its maneuverability because it has a low turn radius. It is affordable and comes with four years of limited warranty. The major drawback is that you will have to mix the fuel before using it.
Pros
Optimal performance
Can be used with universal attachments
Durable
It is affordable
Lightweight
Cons
5. Toro 51467 Cordless 8-Inch 12V Electric Trimmer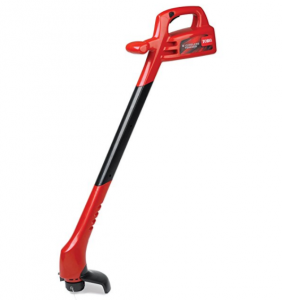 The Toro's 8″ cordless trimmer has an elegant design giving it an improved balance. With a weight of 6.5 pounds, it is lighter than its competition. The handle also makes it comfortable for you to use, and it has an indicator that turns from red to green when it is ready for use. You also don't have to be concerned about it getting damaged from debris because it has a shield that protects it.
The string trimmer has a 12v battery that charges in less than 24 hours; it doesn't require fuel, so you don't have to worry about oil stains. Been cordless, It gives you a limitless movement, you can go anywhere without the constraint of an extension cord. It also makes it easy to manage the trimming line; you can just tap the head whenever you need an edge.
The trimmer doesn't require any tool for spoof to replace and assemble, and it has a two-year warranty. Even more, it comes with a charger and battery for your convenience. And one charged battery can provide over 40 minutes of run time. The downside is that the trimmer doesn't have provision for attachment.
Pros
Lightweight
Comfortable
Durable
Easy to assemble
Free movement
Cons
6. Toro 51484 Cordless 12-Inch 20V Lithium-Ion Electric Trimmer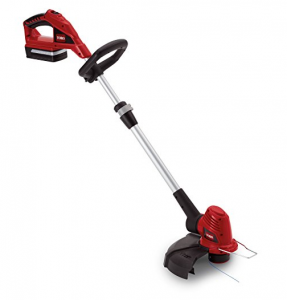 The string trimmers have many useful features; it has an auto-feed line system that keeps and manages your trim line on the right length. The trimmer also converts to an edger with the push of the button, and the wheels help you to roll the trimmer along smoothly and also prevent scalping freely. The trimmer also has 12 inches cutting width that produces fast results.
Toro 51484 cordless string trimmer is very durable with its aluminum shaft, and with its adjustable handle, you don't have to worry about hand fatigue; the grip handle makes sure of it. The trimmer has a lightweight, edge guard, and well balanced. It has a rechargeable lithium-ion battery and included in the battery and charger; you don't have to buy it separately.
The trimmer is so quite your neighbors may not know you are working in your yard, and it been an electric trimmer; it is environment-friendly. And the 20v lithium battery provides you with twice the power of a traditional nickel-cadmium battery. Toro offers a full two-year warranty, and the downside is that it is only perfect for small yards because the battery doesn't last long.
Pros
Adjustable handle
Durable
lightweight
unlimited movement
Cons
The battery doesn't last long
7. Toro 51488 48V Max Cordless Dual Line Trimmer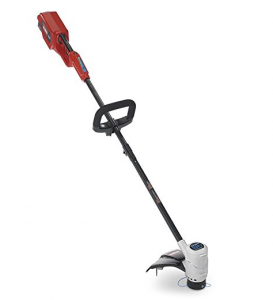 Toro 51488 48V Max Cordless Dual Line Trimmer is the last on our list of best Toro string trimmer for a reason; it has an excellent standard pack 48v max lithium-ion battery, which can be used as a backup and for replacement. It has a charge indicator that notifies you on when to recharge and what power you have left on the battery. The lithium battery provides you with twice the energy a traditional cadmium battery will give you.
The trimmer head has cast aluminum; this makes it durable. The dual-line gives it a superior performance. You can trim to any direction you see fit without being bothered by an extended cord, and the 40-volt lithium-ion provides you with 20 percent more power to get the job done. It also boasts of 48volt Battery Charger and a Storage Mode.
It has a sleek design, perfect for the average yard, and battery technology provides more power for the trimmer. Though they don't last like the gas-powered trimmers, they still get the job done for the average yard. It is well balanced and lighter in weight than gas-powered trimmers, and it is comfortable to handle. Toro cordless trimmers run cleaner and are quieter than gas trimmers. It also features an anti-vibration technology.
Pros
Anti-vibration
Lightweight
durable
Comfortable
high performance
Cons
Only suitable for small yard
The battery doesn't last that long
Buying Guide of String Trimmers
String trimmers are gardening tools that take over where lawnmowers left off; they are perfect for helping you cut down weeds, brush, and long grass, shrubs, walkways, and more. They are also used to trim or edge the finished yard. Before you buy a trimmer, there is something you have to consider so that you won't pick the right trimmer for the wrong reason.
There are two significant types of string trimmers, the gas trimmer, and the electric trimmers which are also of two kinds: the corded and the cordless trimmers.
Gas-powered string trimmers: They are cordless trimmers that offer power, and usually require a two-cycle mix of oil and gas to operate, and other models have a four-engine that runs more smoothly than the two-cycle engine and doesn't require mixing the oil and gas. The benefits of Gas-powered engine includes
Covering a large area
Ideal for cutting more massive weeds and grasses
A more extensive range of attachments can choose
Accepts lines with larger diameters
They usually cut faster.
They are heavy duty string trimmers.
Electric string trimmers: There are cordless electrics that provides constant without the need to recharge though they require the need for an extended cord. In contrast, the battery-powered trimmers, usually referred to as cordless trimmers, make use of lithium-ion batteries providing more power to the engine and mobility. The general benefits of electric-powered string trimmers are
More comfortable to start and with low maintain
Run quieter and cleaner
Electric models are ideal for smaller yards.
More economical
Lighter in weight
Other factors to consider before shopping for string trimmers are the features that make it work faster, cutting path, easier handling, and the size of the trimmer.
Conclusion
When it comes to buying Toro string trimmers, it is always best to take the time to do your research before you decide. You have to consider trimmer that meets your preference, and you have to go through the review so that you can figure out the tool that will fit your needs. Make sure you get the Toro string trimmer that can handle the area of your yard as well as the weed you will expect to grow in it.