The Homelite string trimmer has been known worldwide for delivering both performance and exceptional value to all of its customers across the globe. The Homelite string trimmers are not just an ordinary trimmer; they are specially designed to keep all lawns and all unleveled edges well-trimmed and lovely all through the year. These trimmers' models are well constructed, and at the same time, the engineering in a way let the trimmer protects the user while in use and also help create a perfectly leveled lawn effortlessly.
Homelite trimmer comes with various features that make it very easy to operate by both the professionals and first-time users, and it includes anti-vibration that makes its usage quite comfortable, the trimmer positions the hand, wrist, and arm in a well-rested position just to help avoid muscle strain. It has a grass deflector that reduces the flying debris. Also, new lines are easily added only with enough quick ground bump, which is made possible by the trimmers' head that's bump feed. Homelite trimmers offer new two-cycle gas trimmers and new electric models that are evolutionary and have kept all other manufacturers on their toes. The electrical and gas-powered trimmers are meticulously designed and engineered in a way that you start very fast and get the job done fast.
Features of Homelite String Trimmers
As a brand, the Homelite string trimmer has features that make it stands out from other brands that are out there. For example, the adjustable length shaft that can be easily set to any preferred length, to make its usage a comfortable one. Also, you can refill without spillage, via its upright refilling position. In the cases of the electrically powered motor, the cord has a retention hook that prevents it from disconnecting from the source of energy. The adjustable front handle is another feature of the Homelite string trimmers; it allows users ease of handling because it can be rotated and adjusted in any preferred direction. Other features of the Homelite string trimmer includes,
New Quick-Fire™ Carburetor for faster and easier starting
Improved clutch Starter System which reduces the pull effort
Reel-Easy™ Dual Line Bump Feed String Head
Lightweight design for ease of handling
Best Homelite String Trimmers
When getting a string trimmer from a gas-powered one to an electrically powered string trimmer, it is better to purchase it from a renowned brand, and the Homelite manufactures some of the best string trimmers that are out there. Their products are great qualities, more comfortable, durable, and user-friendly. Here, we will be discussing the best available Homelite string trimmers in the market, and we hope you get to choose the one that suits you best.
You can check the top three Homelite String Trimmer sold on Amazon:
Bestseller No. 1
WORX WA4054.2 LeafPro Universal Leaf Collection System for All Major Blower/Vac Brands
STOP EMPTYING THE BAG OVER and OVER Hooks up to your leaf blower or vac and empties into a 32-96 gallon waste container (not included)
FITS ALL MAJOR BRANDS Works with both gas and electric leaf blowers or vacuums. Its universal adapter fits 90 percent of all blower or vacs on the market
8-FOOT HOSE Expands for 16 feet of reach, so you can set it down and work around it, then drag it with you to the next spot
MESH HOOD Fits snugly over every standard waste container, and the cinch-tight drawstring forms a seal for a solid, consistent flow of air
DO IT YOURSELF. DO IT BETTER. DO IT WITH WORX. WORX tools are engineered with cutting-edge technology, and above modern efficiency standards, so you can build a cost-effective tool collection that's been designed to last
Sale
Bestseller No. 2
WORX WG509 12 Amp TRIVAC 3-in-1 Electric Leaf Blower with All Metal Mulching System
[LEAF BLOWER, MULCHER & VACUUM] Yard work doesn't stand a chance with this 3-in-1. And it's fun to use. Leaves and debris on your lawn won't be there for long.No-Load Speed : 6000-15000/min
[QUICKLY SWITCH MODES] Changes from leaf blower to vacuum mode and back again with just the flip of a switch. No tools needed, just you and your Worx TRIVAC
[METAL MULCHER] The metal impeller cuts in two stages, chopping leaves down to an 18:1 mulch ratio – that's 18 bags of leaves mulched into 1
[2 SPEEDS FOR DIFFERENT JOBS] 80 mph to 210 mph and 350 cfm. Go slow for pavement or tight corners. Dial it up to 210 on the open lawn
[DO IT YOURSELF. DO IT BETTER. DO IT WITH WORX.] WORX tools are engineered with cutting-edge technology, and above modern efficiency standards, so you can build a cost-effective tool collection that's been designed to last
Sale
Bestseller No. 3
1. Homelite 26cc Gas Powered 17 inches Curved Shaft Trimmer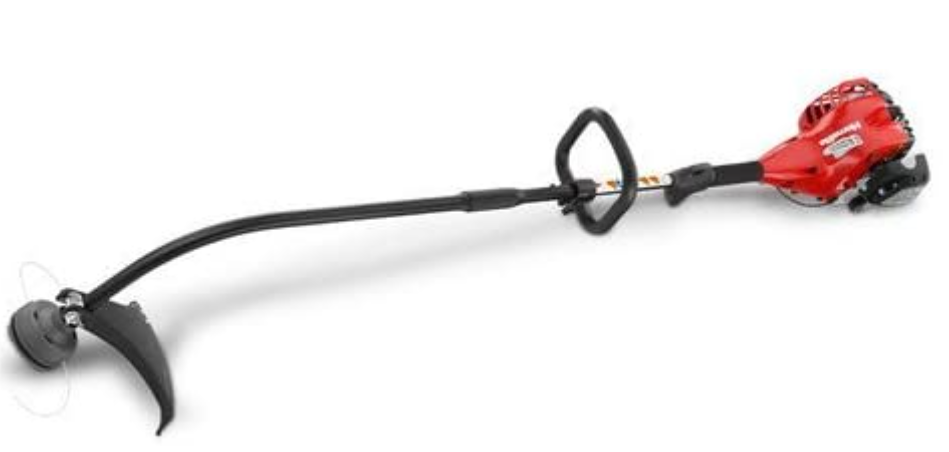 Homelite Curved Shaft Gas Trimmer is your greatest weekend friend. It is designed to start quickly and runs without any difficulties. Its less weight makes it easy to hold and move around.
Pros
Curved shaft for secure handling.
Lightweight and comfortable to hold.
Powerful two-cycle low emission engine.
New Quick-Fire Carburetor for faster and easier starting.
An improved start system with a clutch makes it easy to start.
17 inches are cutting swath.
Dual-line bump feed works well.
Cons
Somehow bulky.
Hard to start at times.
User view
It is a great weed eater. If you need a durable string trimmer and an edger that saves you time, Homelite reconditioned 26cc Gas Powered 17 inches Curved Shaft Trimmer will do that.
up
2. Homelite 13″ Electric String Trimmer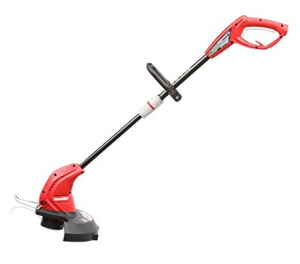 The Homelite 13 inches electric string trimmer is one of the best string trimmers regarding consistency. It is an electric string trimmer that uses 4.0 amp motor, so you don't have to trouble your mind whether, as an electrically powered machine, it can offer incredible performance. With an electric motor of 4.0 amps, be assured that you will have no oil spill or gas mess associated with gas-powered engines and also experience increased performance and durability too.
Furthermore, its cutting swath size is 13 inches, which is quite long enough for some perfect slicing of grasses, and it can also shift faster to an edger mode, which makes yard duties easier and quicker to complete. The adjustable shaft length of this machine makes handling more comfortable. It is so light in weight that the total weight of this trimmer is 5.2 pounds, making it lighter than all the other Homelite string trimmers' model,s and it comes with a cord that has retention hook; this prevents disconnection from the power source. To cap it all its performance and unique values are backed up by two years warranty.
Pros
Lightweight
Adjustable shaft
User friendly
Cons
Powered by electricity only
3. Homelite ZR33650 26cc Gas Powered 17 inches. Straight Shaft Trimmer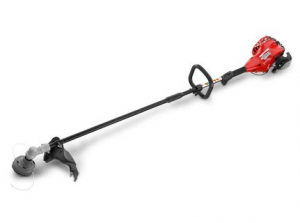 It is a gas-powered Homelite trimmer, with some amazing qualities and uses attachments to get the job done at once. It is a little emission type of engine with a powerful two-cycle engine and surprisingly produces a large quantity of power for a simple budget string trimmer. This gas trimmer comes with a new type of carburetor known as QuickFire, which starts the engine faster even easier with the advanced starter system, and this gas-powered HomeliteZR33650 26cc Gas Powered 17 inches Straight Shaft Trimmer weighs about 10.5 pounds; it is a bit light for a gas-powered machine.
The grass deflector reduces the debris flying all around; likewise, its bumper feed string head makes new lines just with a fast ground bump. Another unique feature is that it has the longest cutting width of 17 inches swath that assists in getting the job done much more quickly, and it has a dual-line head; it does a perfect work when cutting weeds and grasses. Finally, it has an adjustable handle also with a two-year warranty.
Pros
Smooth start
Long cutting swath
Adjustable handle
Cons
4. Homelite 5 Amp Electric String Trimmer / Edger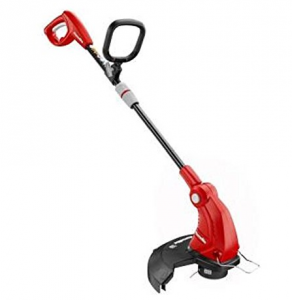 It is another fantastic trimmer manufactured by Homelite; this model is an electrically powered motor; that is, there is no emission from this actual model, which tends to make it a more eco-friendly trimmer to use. You only need to push the button for it to start working and a single push to switch it off too; this particular feature makes it easy to start and stop string trimmer.this is a trimmer that comes with a two in one shaft which rotates for hedging purposes. Homelite 5 Amp Electric String Trimmer / Edger comes with a cutting swath width of 14 inches, and a five-amp motor powers it.
The trimmer is lighter in weight as it weighs 8 pounds when working; it also has a grass deflector that minimizes the grass that flies around. Some of the unique features that give it an edge over other models include a front handle that is adjustable and meant to give more comfort when it's in use, an edge guide out fold that ease its usage, an auto-feed head, and a user guide manual for reference.
Pros
Adjustable trimmer head
Adjustable front handle
Longer cutting swath
Cons
Needs longer extension cord for bigger yards
5. Homelite 26cc Gas Powered 17 inches Curved Shaft Trimmer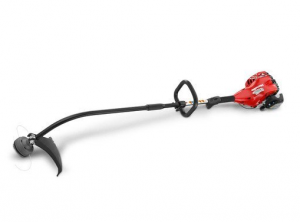 This individual Homelite model is structurally designed to give you more comfort while trimming your lawn. Apart from the fact that this particular trimmer is built specifically for more comfortability and ease of use, its top features add to what makes it the best, and the features include. The two-cycle engine is potent and also produces low emissions; it starts fast enough and with ease via the new quick-fire carburetor technology, and the last fantastic new technology this trimmer has is an improved clutch starter system specially designed to reduce pulling and at the same time minimizes the pull effort.
Furthermore, Homelite 26cc gas powered 17 inches curved shaft trimmer reel natural bump feed string head has a double line with each line measuring two millimeters in size. And the length of the cutting swath is 17 inches, which means that the trimmer slices the grasses twice faster, and you can complete bigger lawns in no time. The string trimmer weighs about 9.3 pounds making it the lightest among gas-powered trimmers manufactured by the same brand. It has a front handle that makes the control of the curved shaft very easy, and also the quantity of grass flying everywhere is significantly reduced by its grass deflector. Finally, this string trimmer comes with a two solid year warranty.
Pros
Smooth start
Long cutting swath
Adjustable front handle
Con
Buying Guide of String Trimmers
Whether you have been maintaining your yard for years or you a first-time homeowner, choosing the right set of string trimmer for your needs can be overwhelming. With the increase in brand availability, different configurations, and new power types, it's difficult to go through your options. The guide below the goal is to make your decision easier; this is why we take the time to explain each process and factors so that you can know what to expect.
Power
The level of power you need depends on many factors; one of them is the size of the landscape or yard you want to maintain. Is your yard weedy or woody? Maybe your yard is rocky, sloppy, or you are only interested in edging your sidewalk. The task you have for the string trimmer determines the type you should get. For example, if you have a small yard, then an electric trimmer might be a better option.
Maintenance
Maintaining a string trimmer depends on the type of trimmer, gas-powered string trimmers require more maintenance than the electric engine. There are two models of the gas-powered trimmer; it could either be a two-cycle or four-cycle model. The two-cycle design requires mixing the fuel with oil and keeping it in a separate container while the four-cycle uses only fuel. The electric-powered requires low maintenance; get a trimmer, you know you can maintain.
Weight and balance
Weight and balance of a trimmer are also one of the things to consider, lighter weight trimmers reduce hand fatigue and make the trimmer easier to maneuver. The right balance is also critical; it gives you comfort. The handle should be adjustable so that your weight will be evenly distributed to match your height.
Type of trimmer
There are two major types of string trimmers that you can choose from when you decide to get the trimmer, gas-powered string trimmer and electric powered trimmer.
Gas-powered trimmer: Gas trimmers are ideal for users that their yard requires 40 minutes of trimming. It is perfect for overgrown grass, tell weed and stubborn shrubs. They are the heavy-duty trimmers that are very reliable; it is the choice for professional landscapers. They require high maintenance to function properly.
Electric Powered trimmer: There are two types of electric trimmers; the electric or corded powered trimmer and the battery or cordless powered trimmer. A corded string trimmer is an ideal option for compact yards, and it is also affordable though, the extension restricts the movement. The battery-powered trimmer is also similar in function to the electric trimmer; the major difference is that it doesn't have an extension giving it unlimited mobility, and a battery also powers it.
Cutting Attributes
The string trimmers mostly use nylon strings to cut the weeds and grass. Some trimmers use a single string line while others use a double chain line. They are both good options, and your decision will depend on your preference. The most important factor is the diameter of the line; it determines the trimmer's ability to cut weeds effectively, so the thicker the string, the better.
The cutting width is also an important cutting attribute to have in mind. The cutting width should correspond to the width of the area covered by a single cut; therefore, the higher the cutting width, the better. You could consider the cutting width according to your requirement.
Conclusion
Yeah, we know choosing the best Homelite
string trimmer
can be quite tasking and pretty difficult, especially when you are surfing the web for the one that might meet your entire requirement. Therefore we have decided to review the whole product for you and hoped that it would answer all your questions and remove all doubts you have with the Homelite
string trimmer
. If you
need a string trimmer that can trim an extensive lawn
, you will need the ZR33600 string trimmer; it is the best option while the Homelite 13″ Electric String Trimmer is more efficient for a simple task. Well, with the above information, we hope choosing the right
string trimmer
will be easier.