STIHL produces the number one selling brand of string trimmers that meet your needs for clean-cut landscape. The Stihl strings trimmers are reliable equipment that provides finish touch to where lawn mowers left off by sweeping away grasses around flower beds and trees, straightens edges that are not leveled by the driveways, and trims patches that the mower can't reach. The trimmer gives a satisfying whirring sound and the smell of freshly cut grass.
Stihl strings trimmers are available in various ranges of handle variations, which include straight shaft length shaft, bike handle, and loop handle configurations. Whether you're a professional landscaper tackling plunging removal of bushes, or homeowner clearing your lawn, Stihl made trimmer to meet your very needs. There are different forms of landscapes which require adifferent set of tools. Stihl covers all the bases by providing string trimmers that have various features which tackle any landscape; the string trimmer has features like anti-vibration technology that enhance comfort, powerful, durable construction, fuel-efficient engines, and interchangeable cutting heads.
Features of STIHL String Trimmers
Stihl string trimmer is a brand that has many unique features, from its protected spark arrestor muffler which reduces the noise level and screen designed that reduce the sparks emission and over to its upright fuel tank which is translucent and this allow the operator to check the gauge of fuel before working. And the upright position makes refilling easy. Another notable feature that is common to all Stihl brand is the Adjustable Front Handle, which can be adjusted to any direction because it has a 360-degree rotation. It makes the trimmer comfortable and easy to use. Other standard features include
High-tech housing polymer which is corrosion-resistant withstands heavy impact and is light in weight.
Air filter cover that is easy to remove for fast filter cleaning.
Purge pump primer allows you to prime your carburetor without overflowing it.
Heavy –duty centrifugal clutch that helps to reduce slippage.
Enclosed Control Cables which protect loose wires and prevent dangling.
Smooth Clean Design with no rough edges that can hold brush cloth.
Protected Choke knob which helps to prevent damage.
Best STIHL String Trimmers
Buying a string trimmer from a reliable brand is a recommendable way to get a quality product, and Stihl is one of the leading string trimmer manufacturers. They are a reliable and reputable brand, buying the trimmers brand is one of the safest ways to get the most durable, easy to use, and comfortable string trimmers. The brand has all types of trimmers from gas-powered to electric string trimmers which are in different forms and sizes. Out of all this, we help you to find the best Stihl string trimmer that is best suited for you.
You can check the top three STIHL String Trimmer sold on Amazon:
Bestseller No. 1
Sun Joe SWJ803E 10 inch 8.0 Amp Electric Multi-Angle Pole Chain Saw, Green
[VERSATILE]: Ideal for cutting overhanging limbs and thin logs
[TELESCOPING]: Pole extends from 5.8 ft. to 8.8 ft. for up to 15 ft. overhead reach
[MULTI-ANGLE]: Head adjusts from 0degree to 30degree
[POWERFUL]: 8-amp motor cuts branches up to 9.5-Inches thick
[WE'VE GOT YOU COVERED!]: Your new pole chainsaw is backed by the Snow Joe and Sun Joe customer promise. We will warrant new products for two years from the date of purchase. NO QUESTIONS ASKED. Contact Snow Joe and Sun Joe Customer Support at 1-866-766-9563 for further assistance
Sale
Bestseller No. 2
WORKPRO Cordless Grass Shear & Shrubbery Trimmer - 2 in 1 Handheld Hedge Trimmer 7.2V Electric Grass Trimmer Hedge Shears/Grass Cutter Rechargeable Lithium-Ion Battery and Charger Included
🎁 Perfect present for Christmas, Mother's Day, Birthday, Anniversary, Valentine's Day, etc
Safety Design - The side safety lock design forms security protection in our cordless hedge trimmer. You must turn it on before starting to use the grass trimmer, which can prevent you or the child from the accident. You can release the button on the side only after the grass shear runs
Simple to Use - At just 1.04lbs, the hedge cutter electric features an effortless one-handed operation. Shrubbery trimmer replaceable high-quality blade with WORKPRO's innovative blade change -fast easy and safe - no tools required. Just slide off the grass shear blade cover, change the grass trimmer blade and switch it out. Note: After using the hedge trimmer blade, it needs to be cleaned in time and kept dry during storage. Ensure that the grass trimmer blade has a longer life
Shape Compact - The compact design of the WORKPRO cordless hedge trimmer ensures that grass shear can fit into a variety of small spaces. Best Use - small garden, hedge grooming, and areas your lawn mower cannot reach given. The hedge trimmer blades - best suitable for less than 8mm thick branches. The 7.2V electric grass trimmer is a perfect gift for friends and family who love gardening
High Performance - 2-in-1 handheld hedge trimmer design makes the switch from mowing to hedge trimmer quickly and easy (4-3/8 inch long shrub shear & 3-9/16 inch wide grass trimmer). 1100rpm no-load speed is able to provide high power for best cutting results, which is perfect for Trimming & Pruning: Grass, Branches, Shrubs
Sale
Bestseller No. 3
BLACK+DECKER String Trimmer with Auto Feed, Electric, 6.5-Amp, 14-Inch (BESTA510)
Automatic Feed Spool (AFS) technology of the edger/trimmer eliminates bumping for hassle-free line feeding that helps you work without interruptions
The 6.5 amp motor and POWERDRIVE Transmission of the grass cutter provide maximum performance when trimming through the toughest weeds, grass, and overgrowth
2-in-1 trimmer/edger with wheeled edge guide - just rotate to convert from lawn trimmer to wheeled edger
Lightweight design with adjustable handle and height positions provide maximum comfort and control
Cord retention system prevents accidental cord disconnection
1.STIHL FSE 60 String Trimmer – Exceptionally Quiet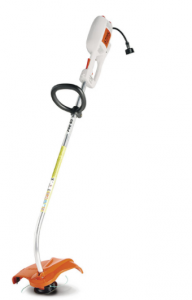 Electric motors power this Stihl trimmer; there are zero emissions from the trimmer, making it a better choice for the environment, which is also a cleaner choice for the environment. The other benefit you can get from buying this electric trimmer is that it is one of the easiest starts and stop trimmers. You don't need to worry about limited movement because it has no cords to pull and up pumps to prime, all you just have to do is press the switch button to start it.
The grass trimmer can handle moderate yard work and still maintain silence when equipped with stihl quiet line, it is fewer 60 decibels. As far as maneuverability is concerned, its curved shaft makes it easy to navigate, particularly when you're doing a light task around the yard. And due to the TapActions, it is east to re-fill the line
STIHL FSE 60 also has a handle that you can adjust, it can be moved around at 360 degrees, and this lets you move the handle to any direction you feel comfortable for your height and hands. Another noticeable unique feature of it is that it is lighter than most string trimmer, so you don't need to be concerned with the weight because it got you covered when it comes to weight.
Pros
Easiest start
Lightweight
Small engine to reduce bulk
Extremely quiet
Con      
It needs extension cord for large yards
2.STIHL FSA 65 String Trimmer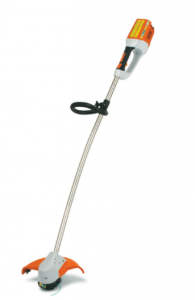 Another great string trimmer from Stihl; the FSA 65 grass trimmer uses a 36-volt Lithium-ion battery which is an excellent battery choice, so you don't have to be concerned about the loss of power from the trimmer. Even as the battery drains, the engine performance doesn't reduce until it gets completely used up. As far as comfort goes, the trimmer is very comfortable, well-balanced, and eases to use.
In addition to this, the trimmer also operates at a lower vibration due toits fewer moving parts. And to cap it all, its startup is as simple as it can ever get. You don't have to be concerned about air and sound pollution because Stihl made sure this FSA 65 is an excellent performance zero exhaust emission providing grass trimmer, meaning you don't have to worry about smoke.
It also has a new technology that makes the engine seven times quieter than any gasoline-powered trimmers; this makes it ideal to use in noise-sensitive areas. Plus, all you have to do is press a few switch buttons to start the trimmer, so easy to use you might not need a Manuel to operate it. And the weight is lighter than most traditional grass trimmers.
Pros
Extremely quiet
Easy to Hand
Starts quickly
Lightweight
Cons
Batteries and charger sold separately
3.STIHL FS 56 RC-E String Trimmer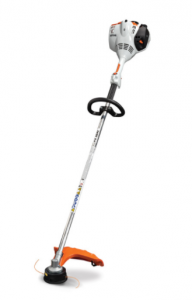 Next on our list is the Stihl FS 56 RC-E, if you are looking for a string trimmer to use for a big landscape, then this trimmer will be aright choice for you. It has a straight shaft that makes it easier to get the grasses at the tough spots that are difficult to reach. It represents howa pure, uncompromising string trimmer should work and look like; it gets the job done
Just like other Stihl grass trimmers, they are durable and come with a two-year warranty on the entire trimmer, and the driveshaft has a lifetime guarantee. At 12.5 pounds, this unit is light, making it easy for you to direct the straight shaft around trees fences, and porches. The trimmer comes with anti-vibration functionality that makes it simpler to carry and handle when using it. Plus, the handle on this unit is adjustable and can accommodate varying users and heights.
You can start Stihl FS 56 RC-E on the first pull; It is an important feature because you won't have to be concerned whenever you want to onthe machine if it will work or not. You can fit two shields on the trimmer, and it makes yard work easy and convenient in a lot of ways.
Pros
It excels as a grass trimmer.
Includes shoulder strap
Adjustable handle
Smooth start
The cutting swath is big
Cons                      
It doesn't support any attachments
4.STIHL FS 240 R String Trimmer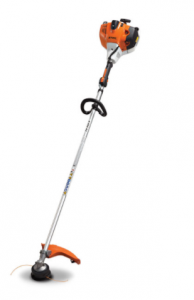 The STIHL FS 240 R is a versatile and heavy-duty machine for clearing large landscape; for commercial purpose or a homeowner with a big lawn, it is called professional trimmer for a reason. It is so powerful that it has 2.3 HP; it can offer you the power to cut through thick thickets, canals, around ponds, roadside ditches, and highway ditches. It is an ideal trimmer for professional landscapers.
These trimmers offer greater fuel efficiency of about 20 percent, feature a 37.7cc, and littleexhaustemission engine. It also has a large fuel tank of 25.4 oz meaning you won't waste time refueling and spend more time cutting and also has a large bike like ahandle that gives you a grip on the power, the handle also host the start, run, and stop button.
STIHL FS 240 R has a TapAction that allows you to tap the cutting of the trimmer to produce the double nylon lines, and it is also designed to work with brush knife to handle undergrowth, scrub, brush, and thick weeds.  It has a vertically pleated and paper air filter element which extends the service life of the trimmer, and it also reduces the maintenance cost. And it comes with a professional cutting head.
Pros
It has various cutting swath
It is suitable for professional trimming
It has large fuel tank
Con
5.STIHL FS 40 C-E String Trimmer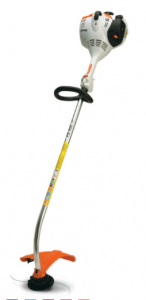 Finally on our list of best Stihl string trimmers is the STIHL FS 40 C-E, It is a trimmer perfect for small lawns. It is easy to use and lighter in weight which makes it comfortable and easier to handle. Like other Stihl trimmers, it also has an adjustable handle that rotates at 360-degree, and you can move it to any preferred direction, and you can use it conveniently irrespective of your height.
It is a gas powered trimmer, but you don't have to be concerned with its emissions because it has low exhaust emissions that make it right for your environment. It is a great trimmer for a beginner, easy to use yet it is very effective because it gets the job done. It has a Lined Drive Shaft that reduces the vibration of the machine, and it also makes the operation smooth.
STIHL FS 40 C-E has the East2Start technology; itstarts by just pulling the starter cord. It has a built-in stop switch that allows you to turn off the trimmer with a simple click of the button that is right outside the engine. The trimmer hadcurved shaft and balanced in hand; it makes it convenient to handle. On the final note, it also has a Tech Polymer Housing features that make it corrosion-resistant.
Pros
Easy to start
Reduced emissions
Lightweight
Adjustable handle
Cons
It has smaller cutting swath
Buying Guide of String Trimmers
When you are through mowing your lawn, you still have to trim the grasses and weeds in or around the trees, fences, around the gardens. String trimmers take care of these issues with great convenience and performance at a lesser money.  In general, the type of string trimmer you need depends on your landscape. The bigger your lawn, the more powerful trimmer you need to maintain it. Powerful trimmers usually take on additional tasks. Light duty trimmers are suitable for an acre in size land space, and then the medium duty can be more active on lawns that are about 2 acres in size. Heavy-duty string trimmers can work well on yards of about or over 2 acres of land. And final the professional string trimmers, it can handle heavy grass and weed, and they are best for bigger landscape