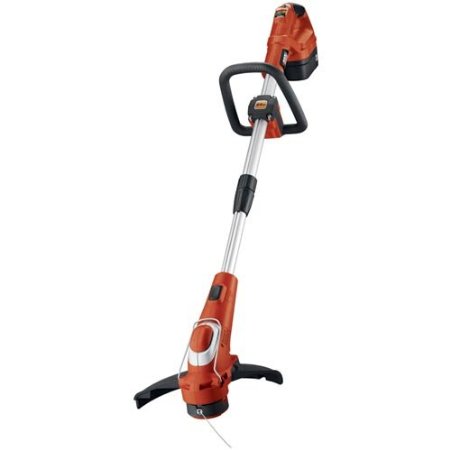 The Black & Decker NST1024 24-Volt Cordless String Trimmer/Edger has been designed to allow you to work with more ease and pace than before. When you consider a cordless trimmer and edger, this tool delivers unparalleled power and ease along with its easy to use make. There are 2 cutting modes in this tool that offer better control. This is what makes this Black & Decker trimmer/edger the ideal equipment for those homeowners who are looking for a powerful and dependable solution.
---
Similar to other cordless string trimmers from Black & Decker, the Black & Decker NST1024 string trimmer/edger also offers high-end cutting performance without the need for using oil, gas, or even pulling at or tripping over cords. The trimmer/edger is powered by a recently built motor that delivers 9,000 rpm. It runs on a 24-V battery with long-lasting capability. From this combo, the trimmer gets all the power that it requires for trimming along your home, landscape bed, or fence.
The Black & Decker NST1024 has a proprietary gear-driven transmission that plays a key role in radically increasing the power output. This patented technology allows this trimmer to leave its competition far behind. For the optimal control over this significant power, users can take advantage of the PowerCommand to choose between a couple of cutting modes. If you want to work for a longer duration, you would switch to the normal mode and if you want more power the Boost mode would give you double the power delivered by even the top 18-V string trimmers around.
The slip-resistant soft grip and the adaptable aluminum shaft make the NST1024 significantly comfortable for anyone to use. If you want to convert it into an edger, all you have to do is to press a button. The Auto-Feed spool technology from Black & Decker keeps advancing the cutting line as you need it more. The features of this trimmer/edger are not just bounded by flexibility and high-power, as it offers several environmental benefits as well. A gas-run engine keeps releasing polluting emissions into the are, whereas this Black & Decker trimmer releases '0' emissions. Additionally, its charging mechanism is Energy Star rated.
As an additional advantage, the Black & Decker NST1024 is relatively lighter, can be started with ease, and offers a much lower cost of operation compared to the conventional gas-run models. When you buy the Black & Decker NST1024 24-Volt Cordless String Trimmer/Edger, you get a warranty of 2 years.
See more reviews and buy Black & Decker NST1024 24-Volt Cordless String Trimmer/Edger