This line of light weight garden maintenance equipments from WORX now comes in a package of the best garden power tools that are available in the market. The WORX WG901.1 is a package deal where you will get the WORX 18V outdoor string trimmer along with the WORX hedge clipper and leaf blower which will help the users to perfectly edge and trim their lawns and hence get the best looking lawn for themselves. Along with the devices, you will also get the wall mounting bracket which you can use for storing the string trimmer. Along with that, the other two inclusions in the package are also value for their money.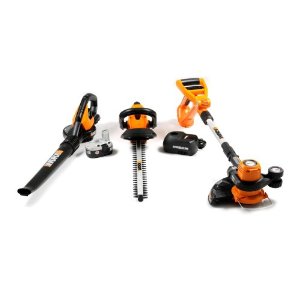 In terms of the money value and the response from the customers, this has been one of the better releases from the WORX power tool company. Customers, who have bought this package, have been satisfied with the performance of all the devices in the package along with the 18V battery which you get along with the machines. The 18V battery is one of the most noteworthy components of this product. All these three instruments are pretty light and therefore it is very easy for the women to use them. However the only downside that the users of this product have seen is that for heavier trimming jobs, this string trimmer actually does fall a bit short and one will have to use more of the heavier machines. However there have been some issues with the function of the string trimmer when you switch between the trimming and the edging functionality. Other than that, the machines have proved to be pretty good. The blower on the other hand does lack some amount of punch as the battery that operates this device does fall short to a certain extent. Furthermore, although the battery does say that one gets full charge after just one hour of charging the battery, this is somewhat not true as it does take some more amount of time and the battery life is actually a little lesser than what they promise.
Why should you buy the WORX WG901.1
One simple reason as to why they should buy the WORX WG901.1 is that they will be getting three most essential garden maintenance power tools at a price of $214 which is a price which is so far below the amount of money that you will be spending if you buy all these instruments separately. Furthermore, the string trimmer that is provided in this package is one of the best from the line of WORX and the functionalities of this device are pretty strong. The user gets much more than what he is paying for. The hedge trimmer is pretty strong and is pretty sturdy when it comes to doing more intensive clipping jobs.
Negatives of the WORX WG901.1
Mostly it is the reliability of the battery life and the fact that the string trimmer is so light, are the few failures of this product.
See more reviews and buy WORX WG901.1 3-Piece 18-Volt Cordless Outdoor Tool Combo Kit with Blower, String Trimmer and Hedge Trimmer