The Black & Decker GH1000 is a powerful trimmer. I own one, but I wouldn't particularly recommend it if you have a family with small children, or if you are generally accident-prone. The trimmer is so powerful that it can cause a lot of damage.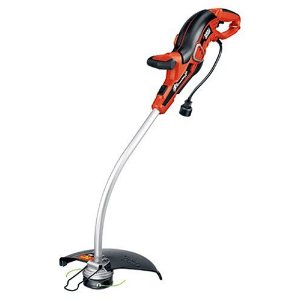 Before purchasing the Black & Decker GH1000 timmer, I had a relatively basic corded trimmer. It did the job, but it took about 2 or 3 hours to trim my lawn. I had had enough of having such a powerless trimmer, so I read one or two reviews online and decided to give the Black & Decker GH1000 a try.
---
After using the Black & Decker GH1000, I was a little alarmed to find that many of the parts started to fail within the first few uses. I had to take the cover off the motor to free a little of the trimming string which had become lodged in between the cover and the rest of the trimmer. The first thing I noticed was that there was a screw missing from the cover. I figured that it might have dropped out when I was trimming. When I took the cover off, I noticed that the rubber band inside the cover that turns the string spindle has begun to warp and looked a little out of shape. I wasn't too sure though, so I just freed the string and put the cover back. A few weeks later, I was using the string trimmer again and it just cut out after about 15 minutes. I took the cover off after the trimmer still wouldn't turn on after an hour and I saw that the rubber band had completely split. I ended up taking that one back to the store where I had bought it and promptly got a replacement.
The replacement wasn't much better to be honest. I found that the trimmer itself is quite bulky and heavy. I can't really hold onto it comfortably for too long. I do like that it is corded because I don't have to worry about the trimmer running out of charge, although the new one still does have an over heating problem.
Because of the Black & Decker GH1000's power, it is great for using for edging, it can even be used on paving slabs and you wont do any damage to the trimmer. The only thing is that because it is so powerful, I find that it is quite dangerous. I got a little too close to my fence panel and ended up making a hole in it with the trimmer. It only took about 3 seconds. I wouldn't recommend using this trimmer if your children are playing out and make sure that you concentrate, and keep your legs out of the way!
See more reviews and buy Black & Decker GH1000 Grass Hog XP 14-Inch 7.2 Amp Electric String Trimmer/Edger