After owning several corded string trimmers, and managing to cut through the cord multiple times on each one, I decided that I'd had enough of constantly having to rejoin the cables together, and not to mention wasting the trimmer string that ends up wrapped around the cord as it severs. I purchased the Black & Decker NST2118 and was pleasantly surprised at my good choice in string trimmer.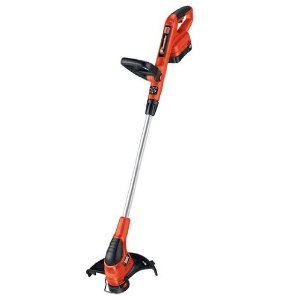 ---
I have quite a large area of grass that I need to trim, and as I live in quite a damp area, I find that I constantly have to cut the grass. My main concern about the Black & Decker NST2118 is that it is a cordless model of string trimmer. I have owned power tools in the past that have been battery powered and been tremendously disappointed. Usually I find that the trimmers are nowhere near as powerful as the corded version and that 20 minutes into the job, I have to down tools and put the battery on charge. Over time the battery powered devices that I've previously owned have stopped holding the charge, and I am lucky if I get even 5 minute's use out of them. With the Black & Decker NST2118, I was happy to find that the battery lasts for about 45 minutes when I am constantly using the string trimmer and it doesn't take very long to charge either. The battery is powerful enough even to perform edging on solidified mud; so again, there are no complaints there. Even if the battery does run out halfway through a job, it's not the end of the world because there is a second battery. I usually charge one whilst I use the other and then swap them around just to conserve the batteries life and to spread out the wear and tear.
The one thing that I did have an issue with is the trimmer overheating. After about 20 minutes of high intensity trimming of my rose beds and other such things with thicker stalks, the Black & Decker NST2118 just ticks itself off, and I have to leave it for about 10 minutes whilst it cools down. I guess that's expected of a trimmer when it has been in use for this long, but still, that's one annoyance that I have about it.
The Black & Decker NST2118 trimmer is really easy to use. To power it, there's just a trigger to pull and the trimmer just starts itself. When the string has worn down, there's a simple mechanism that automatically extends the string back out again which I feel quite safe about. I like the fact that the trimmer isn't very heavy – only about 6.5lb and so it can be carried around the garden without getting too worn out.