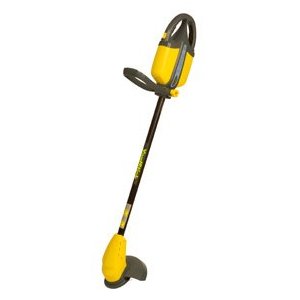 The al new American Gardner Yardstick is a great two-in-one yard tool for all home owners. The Yardstick is an edger cum trimmer and is an ideal tool for your garden or lawn.
---
This battery powered trimmer converts into a rolling lawn trimmer with just a turn of the handle using the Quickedge Transition design. This great tool comes with a 24 volt power core double ball bearing motor. Along with it comes a power core battery. The battery life is extremely good and gives you approximately 45 minutes of cutting time every time you charge. This is a lot more than other competitive v cutters of the same range. A 10 inch cutting swath adds to the efficiency of the cutter by completing your yard work more quickly. Also, whenever you need more line to work, just bump the head of the trimmer and it feeds out .08 commercial grade line automatically to enable you to work with ease. There are virtually no maintenance hassles as the trimmer does not use any gas or oil. So one can enjoy explosive free trimming sessions. There are no spark plugs or air filters to clean and no carburetor to adjust. Moreover, the trimmer is designed to maintain perfect symmetry and balance in the hands of the user. The tool very user friendly, and comes with two comfortable grips to hold onto and a hassle free start switch. This American Gardner Yardstick unit stores in the wall-mount charges that comes along with it. The charger indicates the battery status with red and green light signals.
Overall, a well engineered and designed trimmer, the American Gardener YS24 Yardstick 10-Inch 24-Volt Cordless String Trimmer is a must have.
Priced at around a reasonable $100 this one trimmer that is not to be missed by any homeowner.